---
Betalingsmuligheder
Vi tager ikke kortgebyrer. Beløbet hæves først på dit kort, når varen afsendes.
Beskrivelse
20 hours battery life
Enjoy listening to music all day long! Mi True Wireless Earphones 2 Basic can be used for approximately 5 hours on a single full charge and for 20 hours with a charging case.
Less noise, more conversations
No longer worry about being loud - with Mi True Wireless Earphones 2 Basic you can always make a call! Since each headset is equipped with two built-in high-sensitivity microphones, the Mi True Wireless Earphones 2 Basic has dual headphones. Combined with advanced technology, the headphones drastically reduce the background noise.
Automatic, smart connection
When the charging case is opened, a window appears on the phone which allows you to connect the headphones to it. Once connected, you can use the wireless headphones to easily control the sound of your phone as well as see the battery level of the headphones and the charging case.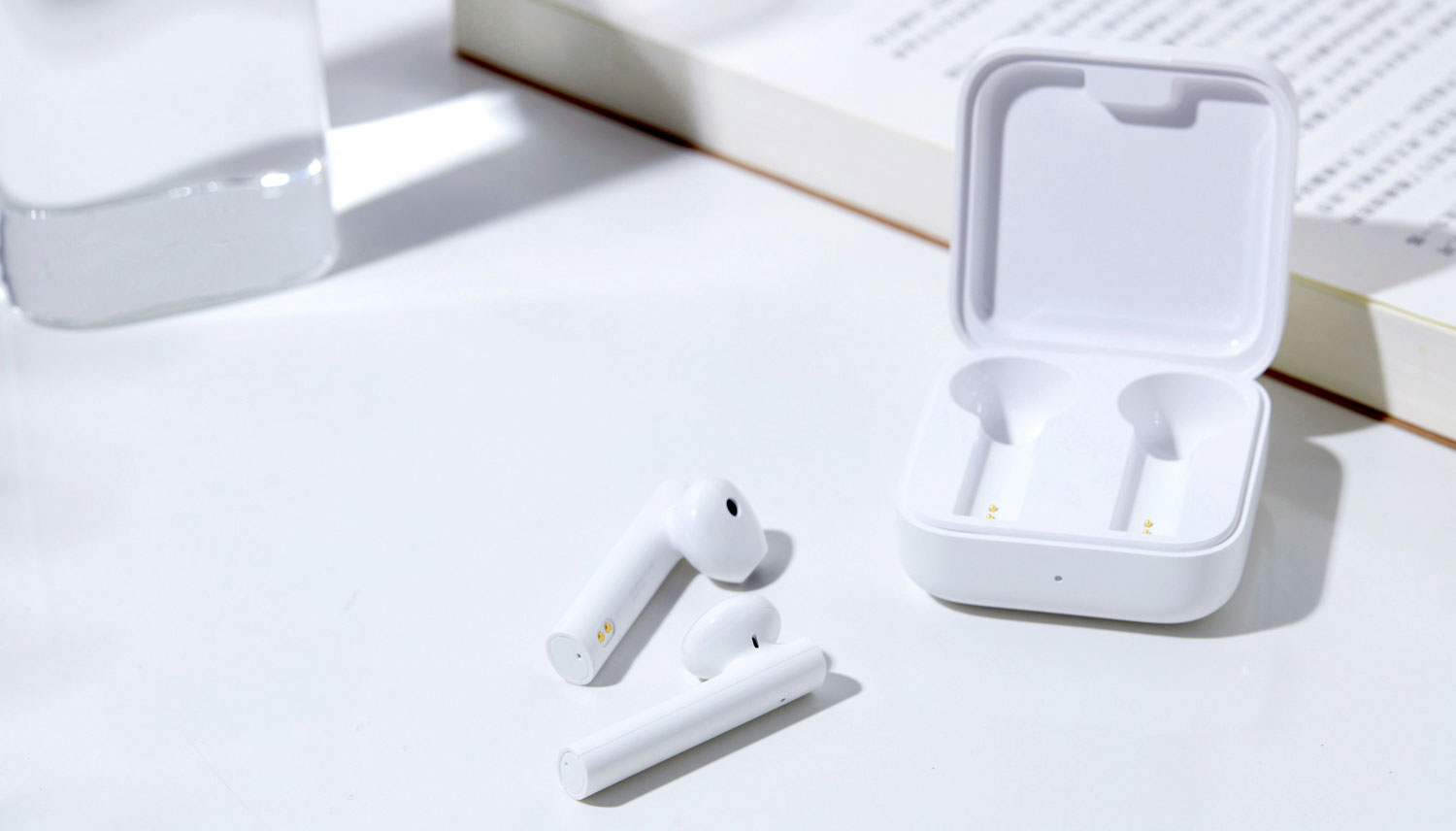 Wireless design - for real
Mi True Wireless Earphones 2 Basic is completely free of restrictions. Switch between using both dimensional sound headphones or a freer feeling headphone - whether you want to use left or right headphones. Mi True Wireless Earphones 2 Basic is designed to fit the ear canal, for increased comfort and stability. Since a headphone weighs only 4.7 g, the headphones are comfortable to wear even for extended periods.
Improved sound quality and feel
For a richer sound, use a dynamic driver with a large composite diaphragm of 14.2 mm. It also creates a natural feel as it preserves more of the structure and details of the sound. The AAC audio code is also used for cleaner sound. The audio signal is also transmitted to the headphones synchronously, as the left and right headphones are connected to each other. The result is that the sound distortion is greatly reduced, while the sound is stabilized.
Check the sound with one touch
Check the sound of the phone without using it. Instead, press the headphones twice to activate functions such as playing or pausing music in one or both ears, answering or ending a call, or activating voice control.
Pause and play automatically
Mi True Wireless Earphones 2 Basic detects whether they are in the ears or not. Pause the sound by simply removing the headphones. Insert them again to resume playback. Perfect for making sure you never miss your favorite song!
For refunds, we do not give 100% refunds on headphones that have been in use as they can not sell them again.
Specification
Weight (Total)
48g
User Distance
10m
Audio Code
SBC / AAC
Impedance
32Ω
Entrance
5V / 1A
Charging port
USB-C
Charging time
1.5t
Battery life length (without case)
5t
Battery life length (with case)
20t
Bluetooth version
5
Package Contents
Mi True Wireless Earphones 2 Basic, Type-C Charger Cable, User Manual
MIUI Quick Parring
Mi 10 Lite, Mi 10 Pro, Mi 8, Mi 8 Explorer Edition, Mi 8 Lite, Mi 8 Pro, Mi 8 SE, Mi 9T, Mi 9T Pro, Mi Max 3, Mi MIX 2S, Mi Mix 3, Mi Note 10, Mi Note 10 Lite, POCO F1, POCO F2 Pro, Redmi 8, Redmi 8A, Redmi Note 7, Redmi Note 7 Pro, Redmi 8 Pro, Redmi Note 9, Redmi Note 9 Pro, Redmi Note 9S td >
Betalingsmuligheder
Vi tager ikke kortgebyrer. Beløbet hæves først på dit kort, når varen afsendes.
Questions and answers
Do you have a question?
Be the first to ask a question about this product.
Ask a question