---
Betalingsmuligheder
Vi tager ikke kortgebyrer. Beløbet hæves først på dit kort, når varen afsendes.
Beskrivelse
Xiaomi Mi Robot Vacuum Mop Essential
With new robot vacuum cleaner from Xiaomi, you can clean the whole house without effort as it comes in everywhere, even under chairs and tables. It also overcomes obstacles up to 1.7 cm in height, so a cable is no longer an obstacle for the Mi Robot Vacuum Mop Essential.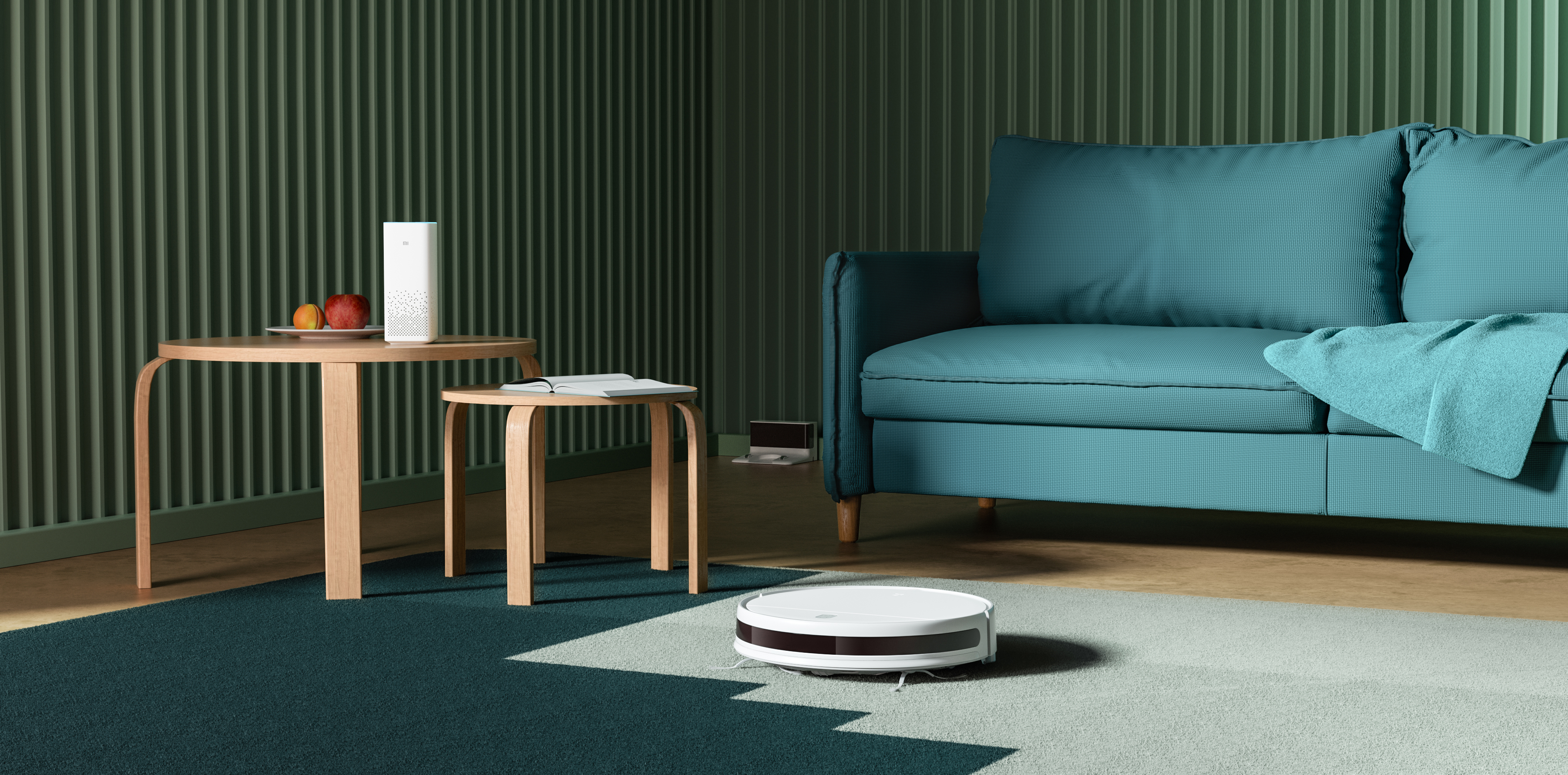 Advanced Navigation System
Mi Robot Vacuum Mop is equipped with an advanced system chip and an algorithm that quickly reads your rooms for the most efficient cleaning. The laser sensor which is located in the middle of the unit has 15 high quality and precise sensors which help the vacuum cleaner not to get stuck in walls or fall down stairs. It easily handles up to 2 cm high thresholds and blankets, so you know for sure that the vacuum cleaner works even when you are not at home.
Mop floors with your vacuum cleaner
Mi Robot Vacuum Mop Essential has a 200 ml water tank for wet cleaning, so in addition to getting rid of the dust, it also wipes and removes dirt. In addition, the water flow is adjusted electronically, which means that it always mops your floors evenly without the risk of leakage or damage to your floors. If you wish, you can regulate the amount of water that flows out by choosing between 3 levels.
Impressive suction power 2200Pa
On one of the most interesting parameters when it comes to vacuum cleaners, the Xiaomi Mi Robot Vacuum Mop Essential has a suction power of 2200 Pa, so that it can efficiently capture large amounts of dust and dirt. It is durable and perfect for when you have pets and want to have all hair removed from the home.
With a suction format of 2200Pa, it is more powerful than many first-class vacuum cleaners on the market and can be run in four different levels / speeds depending on how your home looks and how fast you want to get cleaned
Completely self-propelled
The large 2500mAh lithium battery can clean up to 120 square meters on a single charge. When the battery is down to 15%, it takes itself to the charging station to charge quickly and then continues cleaning. It is completely self-propelled so you can clean without being at home no matter how much space you have!
My Home app and compatible with Google Assistant and Alexa
Using your Mi Home app, you can track and schedule your cleaning in real time. You can map how and what you want cleaned, schedule cleaning and have full control over any disturbances, no matter where you are. It is also compatible with i.a. Google Assistant and Alexa and also supports voice control.

The package contains:
1 x Xiaomi Mi Robot Vacuum Mop Essential
1 x Manual
1 x Dust container
1 x Side brush
1 x Mop unit
1 x Mop cloth
1 x Charging station
1 x Charger cable
Betalingsmuligheder
Vi tager ikke kortgebyrer. Beløbet hæves først på dit kort, når varen afsendes.
Anbefaler i et bestemt rengøringsmiddel at sætte i vandtanken med, for at rengøre gulve, eller skal man benytte sig af kun vand?

Vi anbefaler ikke at man tilføjer rengøringsmiddel i vandtanken, da de bobler som rengøringsmidlet skaber, kan blokere filteret. Hvis man vælger at anvende rengøringsmiddel, er det ens eget ansvar. 

Hej jeg håber kan hjælpe. Jeg har købt denne vare og har lidt svært ved at appen. Jeg synes ikke at jeg på mi Home appen kan få min støvsuger til at finde et bestemt rum for at støvsuge præcis derinde. Og jeg synes heller ikke den sådan differentierer imellem de 5 rum jeg har lavet i appen. Eks. Starter den med at støvsuge hele stuen også tilfældigvis kommer den ind i de andre rum. Det vel ikke meningen ?? Hvordan kan jeg få den til at se og forstå forskellen mellem køkken og soveværelse. ? For jeg kan ikke gøre så meget på den app jeg har. Den er også opdateret og tilkoblet via wifi på telefonen. Så den opfatter og forstår når den skal pausere. Alle mine rum er uudfyldt ud hvis det giver mening. Jeg kan eks ikke lave de vægge som flere youtubere viser så fint. Og når jeg har lavet en ændring i appen. Skal jeg starte forfra næste gang jeg åbner appen. Det lidt frustrerende. Men er der en forklaring på det jeg oplever som jeg evt kan gøre noget ved ?

Denne robot version har kun de nødvendigste funktioner, heraf navnet "Essential" så man kan ikke gemme kort, den genlæser rummene hver gang. Derfor har du ikke så mange muligheder i appen. Hvis du ønsker at gemme kort og lave skemalagt rengøring, så skal man enten benytte sig af Mi vacuum Mop eller Mi Vacuum Mop Pro.