---
Betalingsmuligheder
Vi tager ikke kortgebyrer. Beløbet hæves først på dit kort, når varen afsendes.
Beskrivelse
Rengør med 3D
Mi Robot Vacuum Mop 2 Pro + er udstyret med TOF 3D, en helt ny teknologi indenfor rengøring, der ofte bruges i selvkørende køretøjer. TOF 3D identificerer og måler afstanden effektivt og undgår, at støvsugeren løber ind i genstande takket være præcis beregning og smarte sensorer.

10 gange mere præcis
Den nye scanning er op til 10 gange mere præcis end infrarød scanning. Kabler, hjemmesko og legetøj fanges direkte af støvsugerens 3D-scanner og undgås let under rengøring. Så snart det kommer tæt på et objekt, der forstyrrer, ændres der automatisk retning og  den bevæger sig i stedet rundt om objektet. Hvis en sofa eller et bord er for lavt til, at støvsugeren kan komme under, prøver den det ikke engang, for at undgå at sidde fast.

Med Mi Robot Vacuum Mop 2 Pro + fører Xiaomi igen udviklingen med innovation til en ekstrem pris. Hvad med:
- 3000Pa kraftig motor, der garanterer rene gulve
- Smart navigation med vSLAM og 3D TOF-teknologi til mere effektiv - rengøring
- Dual gyroskop, optisk flow sensor, cliff sensor
- Smart elektronisk styret vandtank med 3 positioner til vandfordeling
- 5200mah batteri
- Alexa og Google Home support
3D VSLAM til præcis

kortlægning
Udstyret med TOF 3D-sensor og VSLAM fungerer Mi Robot Vacuum Mop 2 Pro + betydeligt bedre end konkurrerende produkter. Den scanner områder op til 4 gange større og har op til 5 gange bedre præcision ved kortlægning.

3000pa sugeeffekt
En japansk-fremstillet, børsteløs motor med et output på 3000pa sikrer rigtig god sugeeffekt. Den indbyggede støvbeholder rummer 550 ml og tømmes nemt med et par få trin. Batteriet på 5200 mAh giver lang driftstid (180min / 240kvm), og hvis der er sandsynlighed for at batteriet løber tør for batteri, kører støvsugeren tilbage til ladestationen, genoplades og fortsætter derefter med at rengøre.

Soveværelse, stue eller køkken: vælg, hvor du vil rengøre
Efter den første rengøring identificerer og gemmer støvsugeren de rum, den har rengjort. Du kan derefter samle, opdele og navngive værelserne for at vælge at sende støvsugeren til det rum, du vil rengøre. Du kan selvfølgelig nemt kontrollere alt dette via din Mi Home-app på telefonen.

No-go zoner og virtuelle vægge uden tilbehør
Farvel til tape og andet støvsuger-tilbehør på dine etager! Hvis du ikke ønsker at rengøre et bestemt område, kan du nemt oprette en virtuel væg i Mi Home-appen, som støvsugeren lærer direkte. Du behøver ikke længere købe magnetbånd eller andre hjælpemidler til at skabe no-go zoner eller virtuelle vægge. Derudover er det ekstremt let at tilføje en midlertidig væg eller justere eksisterende.

 5 hurtige om Mi Robot Vacuum Mop 2 Pro +
Batteri
Stort 5200 mah batteri betyder 180 minutters non-stop rengøring
Smart Top-Up


I ekstra store hjem kan Mi Robot Vacuum Mop 2 Pro + gå tilbage til opladeren og oplade batteriet lige så meget som det er nødvendigt for at være i stand til at afslutte rengøringen.
Let at vedligeholde
Du kan nemt rengøre og udskifte dele på din Mi Robot Vacuum Mop 2 Pro +, så den fortsætter med at præstere bedst i lang tid.
Anden software og stemmestyring
Kompatibel med Google Assistance og Alexa. Din stemme er alt hvad du behøver for at starte eller afslutte din rengøring.
Skjuler nemt ledningen 
Hold dit hjem stilfuldt ved nemt at opbevare ledningen i ladestationen.
Indeholder
1 x Xiaomi Mi Robot Vacuum Mop 2 Pro+
1 x Manual
1 x Støvbeholder
1 x 2-i-1 vandtank/støvbeholder
1 x Sidebørste
1 x Moppedel
1 x Moppeklud
1 x rengøringsværktøj
1 x Ladestation
1 x Ladekabel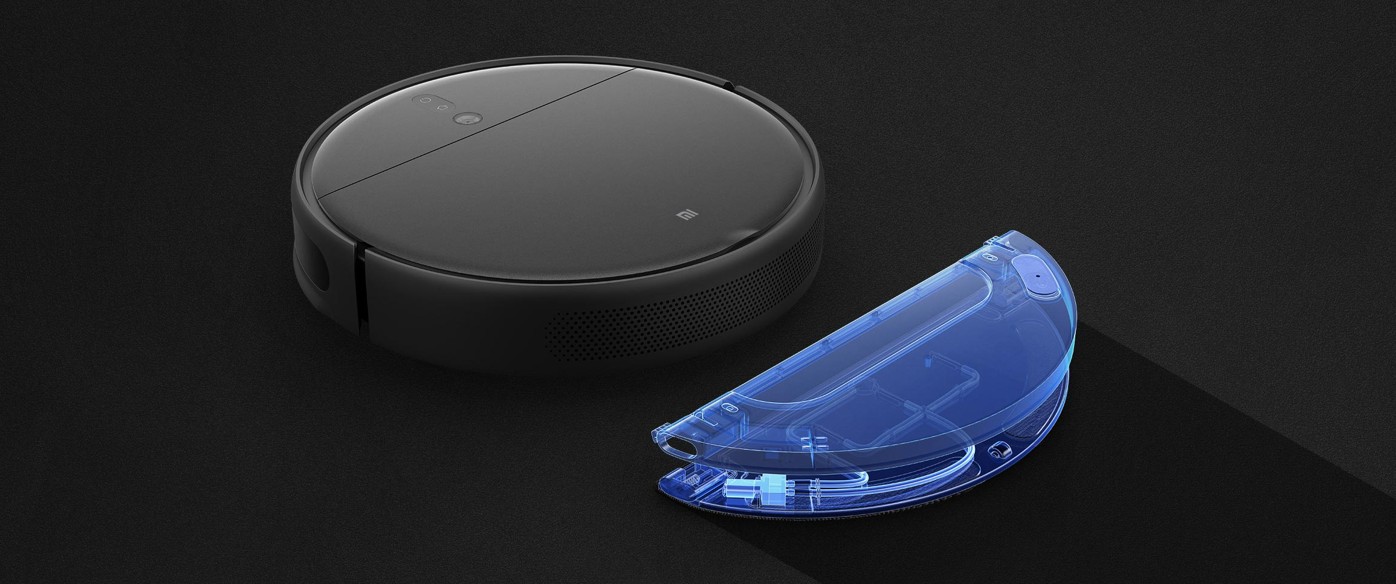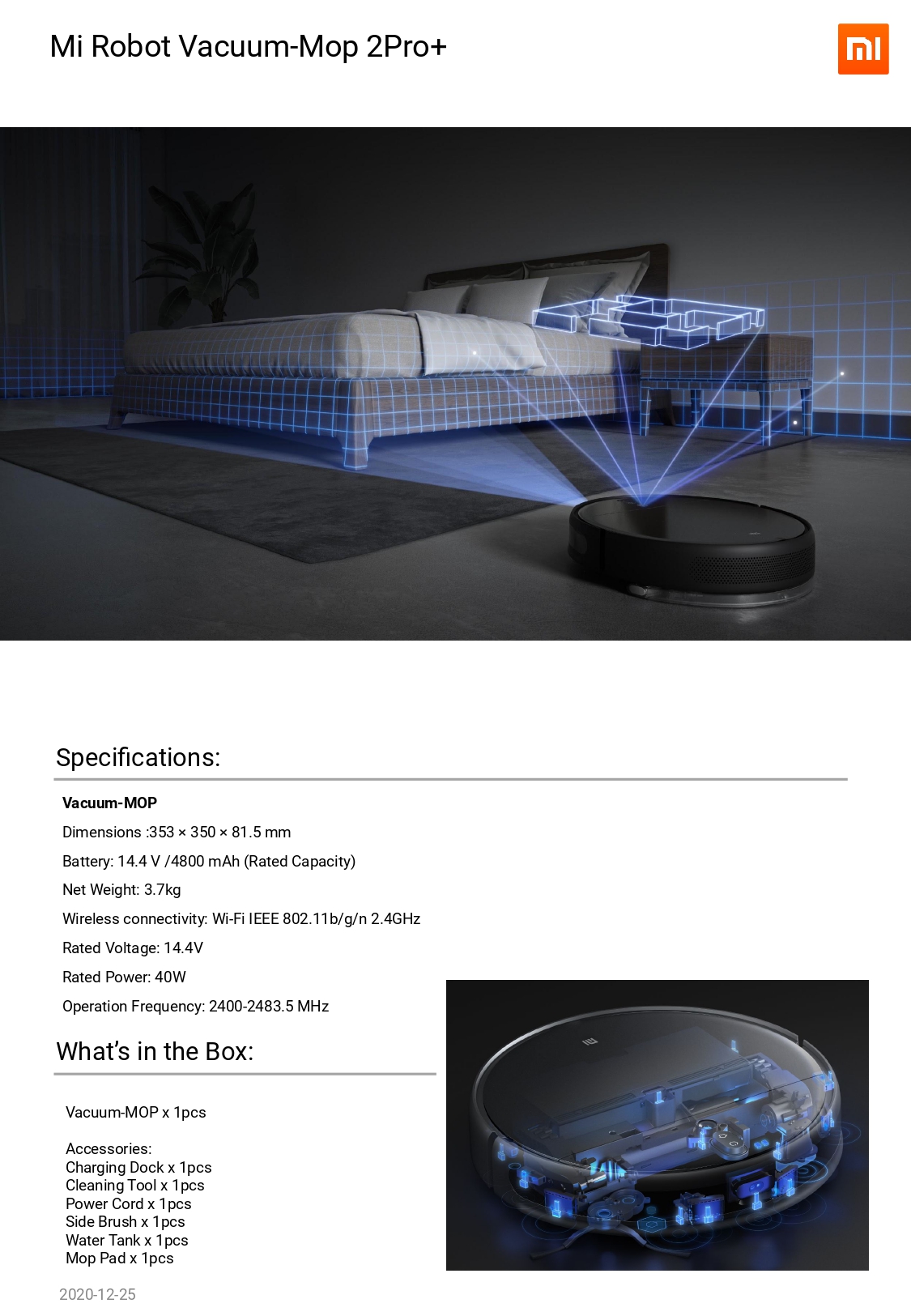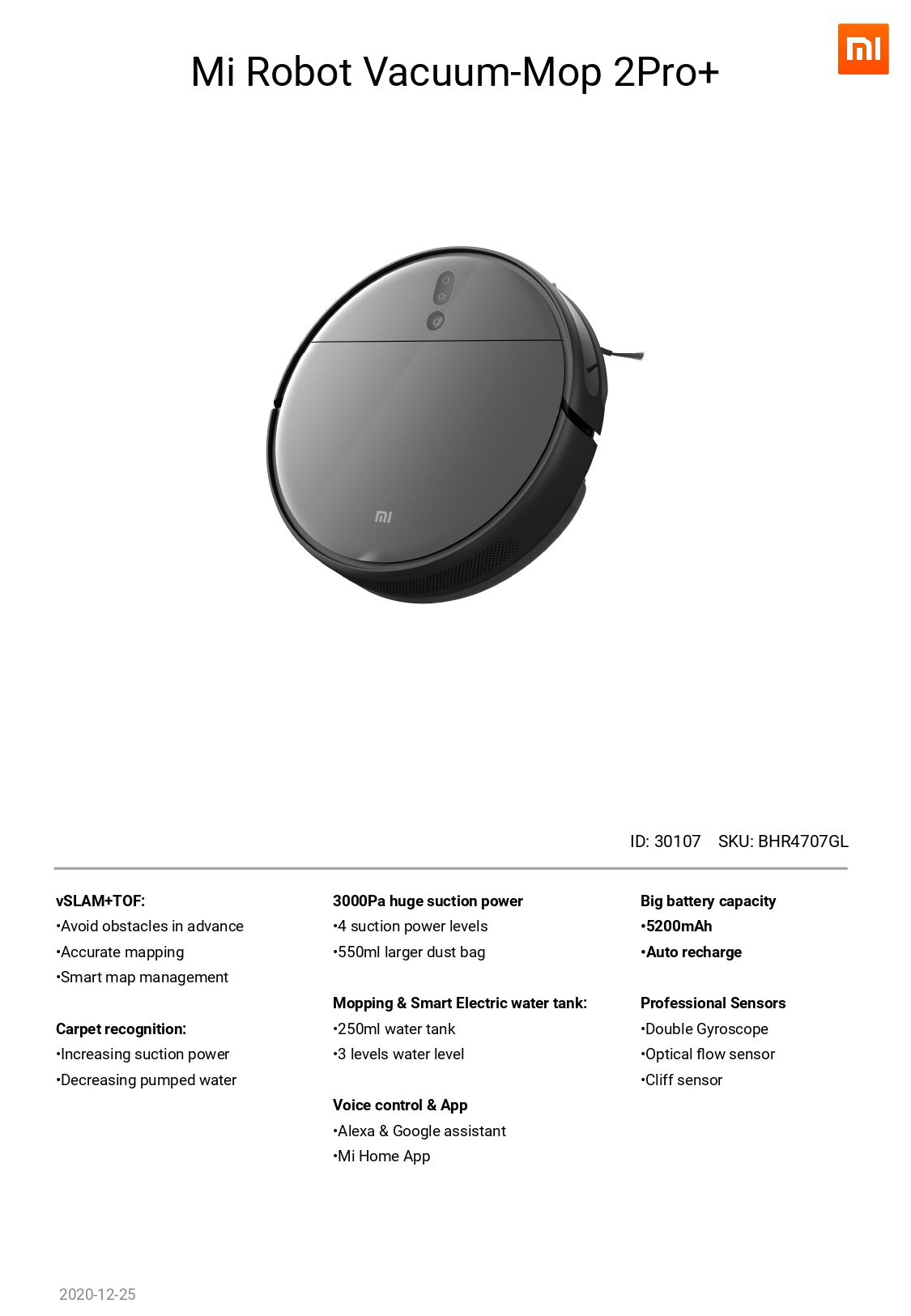 Product Specification
EAN
6934177724565
Colour
Black
WiFi Frequency Bands
Wi-Fi IEEE 802.11b/g/n 2.4GHz
Supported Systems
Alexa,
Dimensions
353mm x 350mm x 81.5mm
Weight
3.7kg
Technical Specifications
Barrier Cross-Height
20mm
Dustbin Capacity
550ml
Mapping Sensor Type
vSLAM+TOF3D
Noise Level
60db
Side Brushes
1pcs
Suction Power
3000 Pa
Voice Prompts
Yes
Water Tank Capacity
250ml
Wet Mopping
Yes
Battery
Battery Charging Time
4-6 Hours
Charging Dock
Automatic Dock & Recharge
Yes
Betalingsmuligheder
Vi tager ikke kortgebyrer. Beløbet hæves først på dit kort, når varen afsendes.
Questions and answers
Do you have a question?
Be the first to ask a question about this product.
Ask a question